Holy Crap - THREE FOs?!?!
Well slap my ass and call me a biscuit! Guess who's found her crochet mojo again? That would be me! It's snowing here and in the south that means life as you know it stops at the first flake. It also means that I have the day off from work and can
finally
blog! Ok, on with the show!
First up a scarf that I started
a year ago
and finally finished back in November. I used two strands of yarn on the smallest loom in the Knifty Knitter set. Once it was removed from the loom I sewed the two ends together forming a complete tubular circle. This scarf is very warm. I used cheap-o acrylic yarn. One strand was solid blue and the other was multicolored. I really like this scarf and can already see that I'll get a lot of use out of it for years to come. And it's sooooo versatile!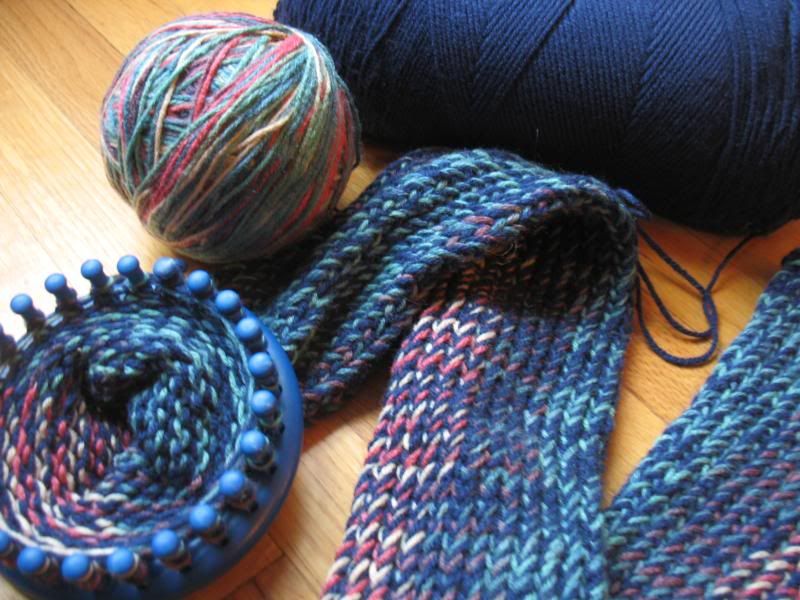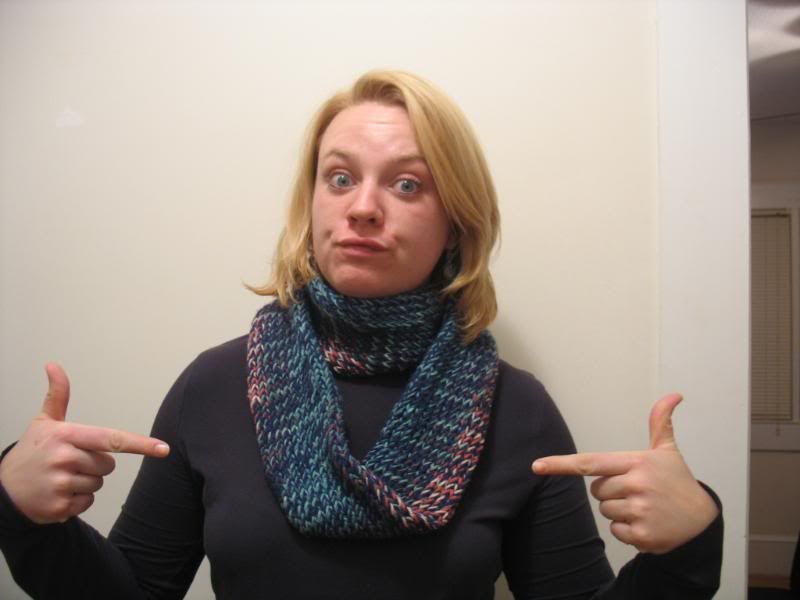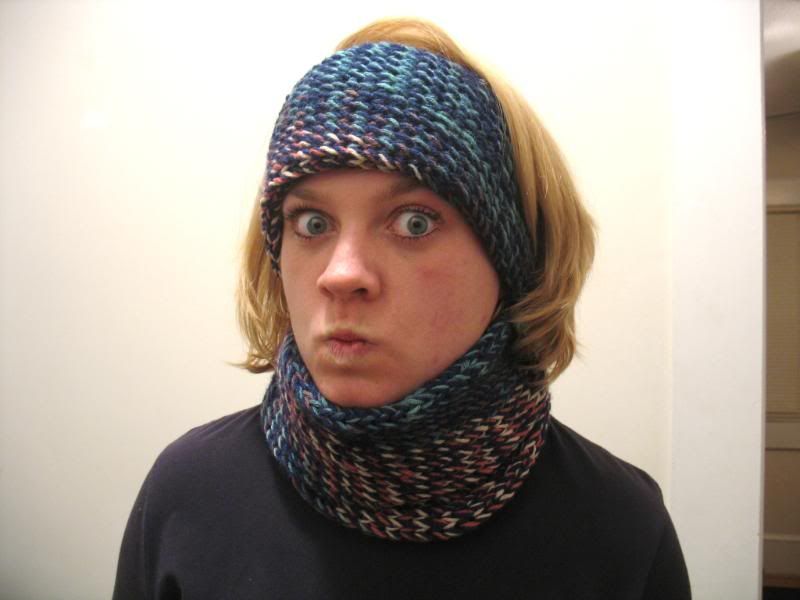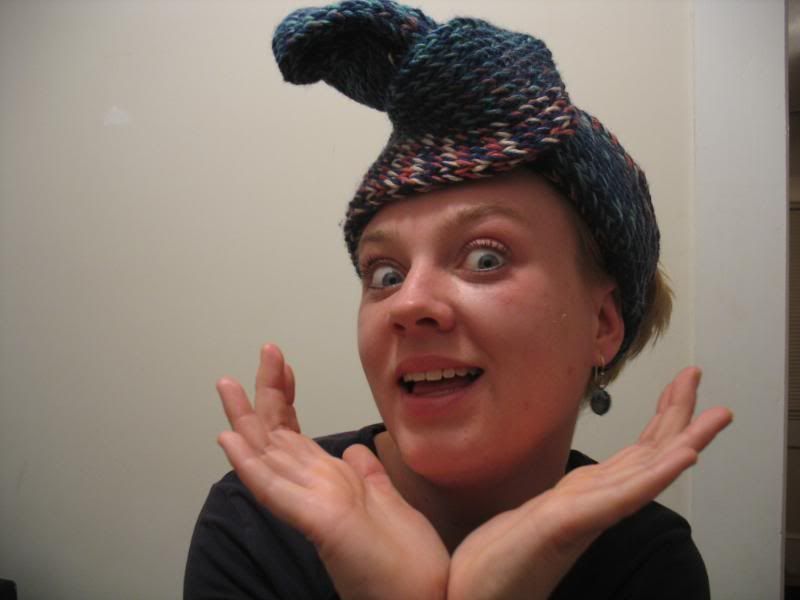 Next up, a
nother scarf. I finally finished "Muh Boteh" and it only took me 2 years and 1 month! As you can see, my crocheters block is quite crippling and it usually strikes when I'm in the middle of a project. I made this scarf with every intention of keeping it for myself. I loved the pattern, I loved the yarn but when it came off the hook the love stopped there and became an if-y
like
. Bummer. On the bright side, I shared it on Facebook and a friend of mine really liked it. She offered to buy it, wh
ich absolutely flattered me, but I was still thinking I wanted to keep it and told her it wasn't for sale . But, I can't take a compliment...or money apparently...and ended up sending it to her as a surprise back in December. Score on the Karma points! I'll probably make another in the future but will make it longer. It looked weird on me as it was and I'm thinking length would bring the love back. The Boteh pattern can be found
HERE
or in the Spring 2007 Interweave Crochet magazine.
Finally,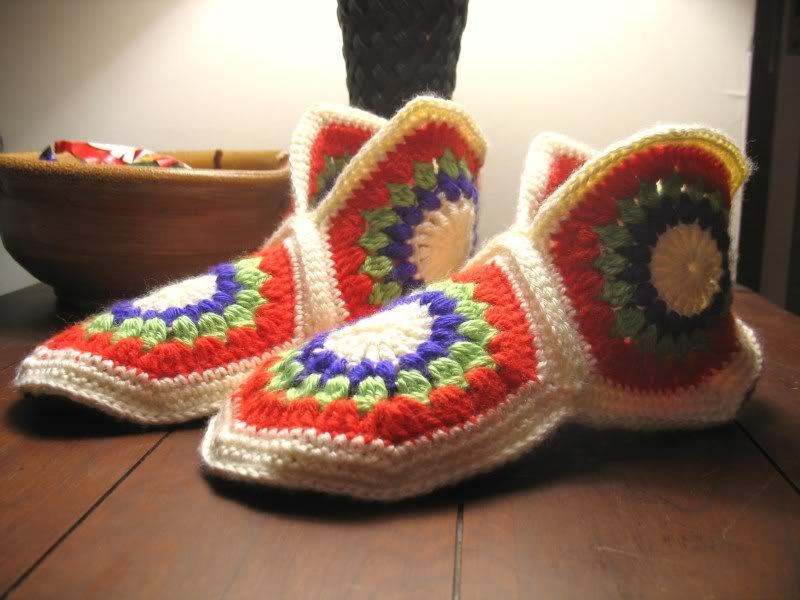 a pair of slippers...and you were thinking scarves were all I could make...shame on you! These didn't take multiple years to make, shocking I know. They started out as a kind of gag gift for my friend Morgan. I chose a what I thought would be the best classic tacky crochet pattern and picked out the most heinous yarns I could find in my stash and set to work. But then cupids arrow struck my left butt cheek and I fell in love! They're like Hooters; Delightfully Tacky, Yet Unrefined!! Morgan loved them and so did Geof. He even asked me to make him a pair...but in Hulk colors. His are still a work in progress and I will hopefully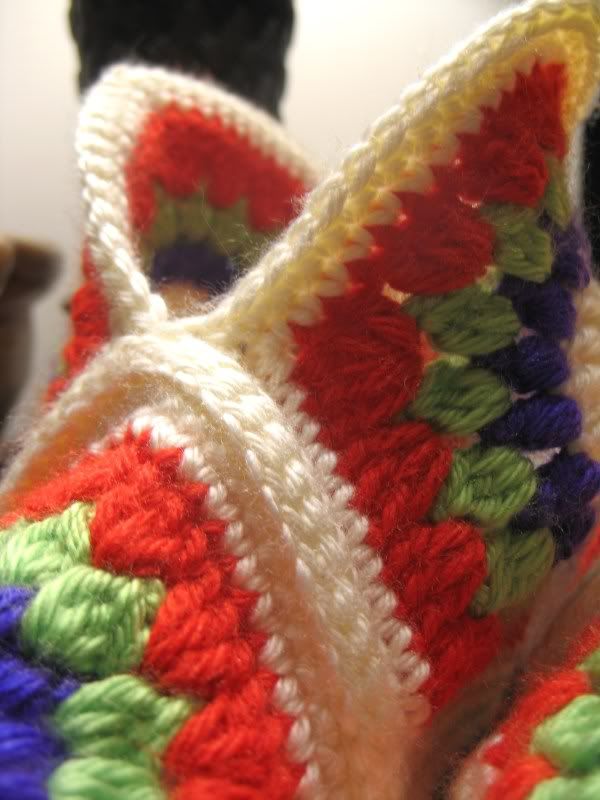 be able to post the finished product later today since I won't be venturing out in this weather. The pattern for these slippers can be found
HERE
. The pattern is great and easy to follow. The only modifications I made were with the soles. I didn't like the pattern for this part, basically a rectangle, so I made my own which resembled a footprint; rounded on the ends and narrower in the middle. The great thing about this project is that you can take your favorite hexagon pattern and turn it into slippers!
That wraps it up for the updates. Does anyone still read this thing anyway? Oh well, I do still enjoy blogging and crocheting (again). Until next time!