I've Been Crocheting For 2 Years...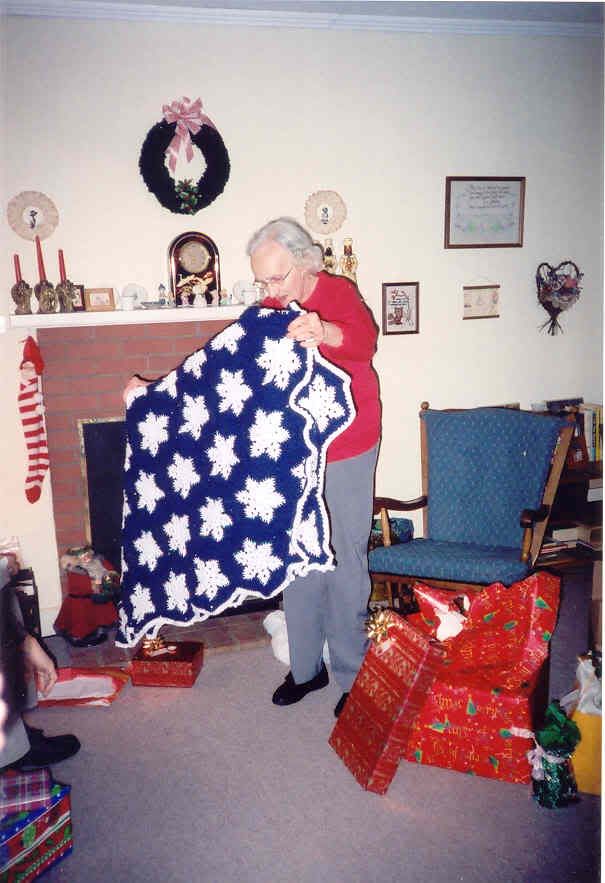 ...and boy, are my hands tired! I just realized today that as of this past September, I've been a proud crocheter for 2 years now. It's a shame though that I've all but lost my will to crochet. I think it's because I
still
haven't recovered from making my Grandmother an afghan in December 2004, after learning to crochet just 3 months earlier!! It was
this pattern
, and it came out beautifully, but it wore me out. It's my own fault, I tend to totally immerse myself in things I find interesting, to the point of saturation!
I've been working on a couple baby blankets lately too that have been sucking my will to live. Ok, so maybe that's a bit of an
exaggeration. I really like the patterns I'm using, and I'm looking forward to seeing them completed but I just have to force myself to work on them, and I don't like that fact. I would like to think that all of my creations are made with love. I know that sounds utterly ridiculous and corny, but it's true. I should just stop whining. Ok...I'm done. At any rate here's a picture of the progress so far on one of the blankets (the blue one). Some of you may recall that a million years ago it looked like
this
. It's one of those things that's two steps forward, one step back. I keep having to frog to correct mistakes. That's one reason it's taking so long, and I haven't really been working a steady pace with it either. The baby it is intended for was born November 8th! I'm not sure if you can tell from the picture, but it's a bit wonky, and what I don't understand is that I have the correct amount of stitches per row. Maybe my tension is off? I've never had that problem before. Maybe it will all work itself out as it progresses. That's another reason it's sucking my will to live...I'm almost afraid to finish it because I may not like it. Ugh! Anyhoo, here's a few other pictures of another blanket I'm working on. The baby this one is intended for is due December 5th.
This one is made using your basic shell stitch, obviously. I'm using Caron Simply Soft Brites in Berry Blue, Limelight, and White. The blanket is very soft and surprisingly heavy. I lack 2 more rows, end weaving, and a border and it will be complete. The other blanket is what's holding up the works. I hate having more than one WIP at a time!
And finally, an FO. Before Nathaniel was stricken with the same stomach bug that Geof and I had, he planned to take Geof hiking in the woods this past weekend so I could have some Mommy time. It's deer season, and since we didn't want Geof to be mistaken for one I whipped up a hat for him to wear in hideous blaze orange. He loves it! The hiking trip never happened, but we're prepared for the next one now I guess. I took this picture today. I think it turned out really cute. This was the first shot, too. He's such a ham! Ok, enough Mommy gushing, I'm annoying even myself!