Got Head?
So I was perusing the fabric at WalMart yesterday evening when I received a phone call from my hubby. He says, "Mandi, you just received a package and I'm dying to know what's inside!" He went on to describe the box, telling that it was from a wig company and that the words "foam head" were on there. I knew immediately what it was...I'D BEEN RAOK'd!! At least that's my guess. The foam head was purchased from my Amazon wish list but I couldn't find out who it was that bought it....very sneaky little fairy! So, my husband and I would like to thank you, kind fairy! This is what it looked like when I got it...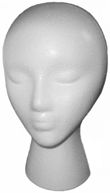 note: this is not the actual foam head I received...it is a found picture from cyberspace
Now it has blue eyes, eyelashes, and ruby red lips.....courtesy of my husband. He had a lot of fun with it. One of these days when we get a digital camera I'll share the joy. For now, you'll just have to use your imagination! Thank you again, dear fairy whomever you are!

Labels: RAOK